Scientists use laser weapons to combat graffiti
April 29, 1996
Web posted at: 9:00 a.m. EDT
From Correspondent Susan Reed
SAN FRANCISCO, California (CNN) -- Graffiti is not only an eyesore, it's a kick in the pocketbook. Across the United States, the cost of cleaning up graffiti is estimated at $7 billion a year.
Cities are at their wits' end. Chicago and Phoenix have banned aerosol spray paint cans. Other cities require property owners to remove graffiti within 10 days or face a fine and/or jail.
And in California, the state legislature is considering a bill that would ban all spray paint cans unless they are attached to a power source like electricity.
The graffiti problem begs the question: wouldn't it be wonderful if it could just magically disappear with no environmentally hazardous residue left behind?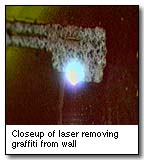 Scientists at Lawrence Livermore Laboratory have beat their swords into plowshares and turned the weapons of the Cold War -- star wars lasers -- into inventions the public can use. In this case, the weapon has become a graffiti blaster.
Peter Celliers explains that the blaster works by focusing a beam on a mirror and "making the beam walk across the brick."
"This is a very large pressure wave, which pulverizes the material on the surface," he says. "It breaks it off in little pieces and comes off as a dust."
The dust is vacuumed up, leaving the surface underneath the graffiti unscarred -- which is not possible with either sand blasting or spraying baking soda, two common clean-up methods.
Mike Campbell, director of laser research at Lawrence Livermore, says that the blaster can be much faster -- and cheaper.
"We believe it can be as cheap or cheaper," he says. "And it can be environmentally beneficial."
But there is one big problem -- cost. So far, only laboratory equipment has been used to demonstrate the graffiti blaster. A commercial device would cost about $250,000 -- too much even for Los Angeles, where the county spends close to $100 million a year on graffiti removal.
But four years ago, baking soda spraying cost that much. Now the machinery for that process is a 16-pound unit that costs $600. Livermore Lab scientists are getting that industry involved, hoping to bring the cost down and make graffiti removal as easy as it is to spray it on.